==&nbsp == ==Plot
==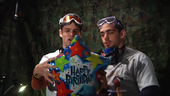 This episode was to commemorate the microwave show's third birthday (July 1, 2010).
It is unclear, but Jon and Jory both seem to reference the snow globe episode here. Jory said about how it was a good thing this didn't blow the door off, and Jon says, "Happy birthday, we're doing this for you," which is very close to his "Happy birthday, Jesus, we're doing this for you" line in the snow globe episode.
Margaret II wears skinny jeans.
Both Jory and Riley think that this is Riley's third season on the show. It is his fourth.
In addition to episode #1, Jon put episode #103 in the related episodes at the end of the video, because this was Riley's first episode.
Jory: You know, when a host really loves the cameraman, sometimes they get together and create a really good show.
Jon: And sometimes, they have a bastard child whose name is Riley!
Jory: (whispers to Riley) You were an accident!
Riley: It happens!
Jory: When Margaret II has to fit into these tiny jeans, that's what it's like, as well!
Jory: Hey, it's kinda like a birthday omelette!
Jory: Just like me, that was a fast experiment!
Ad blocker interference detected!
Wikia is a free-to-use site that makes money from advertising. We have a modified experience for viewers using ad blockers

Wikia is not accessible if you've made further modifications. Remove the custom ad blocker rule(s) and the page will load as expected.