Bertha is an unofficial microwave on the show. She was going to be the thirteenth microwave ever used on the microwave show. However: she is never used on the microwave show, because she appeared to be dead already.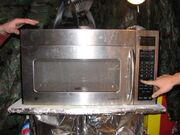 Name. Bertha
Brand. GE Spacemaker XL1800
First Experiment. N/A
Last Experiment. N/A
Total Experiments. 0
Ultimate fate. Dead (unofficial)
Unofficial Microwave
Edit
Bertha never had any of her own experiments in the lab and is therefore an unofficial microwave. She is the first microwave that can be considered DOA (Dead on Arrival) when the guys got it. If she did work, she would've taken it over from Jackie in experiment 156. She also didn't appear in the list of microwaves and their amount of survived experiments in the retirement montages in episodes 185 and 211 and Jory, Jon and/or Riley never told about her.
She might be unofficial, but Bertha is no unseen microwave. She has appeared at the end of the title sequence since season 6, with the exception of season 9.
Ad blocker interference detected!
Wikia is a free-to-use site that makes money from advertising. We have a modified experience for viewers using ad blockers

Wikia is not accessible if you've made further modifications. Remove the custom ad blocker rule(s) and the page will load as expected.