Beth
was the thirty-first microwave used on the show, as well as being the second GoldStar microwave. She is donated by YouTuber NoNameRockBand and he also named her. Jory did see the sticker that identified her name; however, on the donations video for season 7, he thought the microwave was donated by a person by the name of Beth. He said that
Miss Havisham
would be a great name for "that old piece of sh*t." However: Jory eventually called her Beth on her only experiment.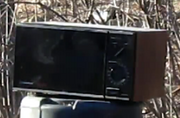 Name. Beth
Brand. GoldStar
First experiment. #274 - Airbag
Last experiment. #274 - Airbag
Total experiments. 1
Ultimate fate. Dead
Beth died on the same way as Summer. She got an airbag on her inside which deployed, slaughtering Beth. She was in far better condition post-explosion than Summer. The guys were even able to place back the loosened parts (panel and door). However: the video ended with Beth's funeral montage, which would mean she is broken. Looking at other airbag videos on other microwave shows, it could be said that Beth is the only microwave to "survive" an airbag in a potentially fixable condition.
Beth was so old that she came with an old-fashioned dial rather than an electronic panel, and supposedly had mold inside of her. Jory called her a "cougar" because of how old she was, and due to her greath wealth, he also said how she was a "sugar mama." However, when Riley found the dial after the air bag explosion, he found out that Beth/Miss Havisham's birthday was February 1988. So, she might have been a cougar in microwave years, but in human years, she was actually a few months younger than Jory, who was born in September 1987, and two years younger than Jon (born February 1986)..
Due to the multiple names, it could be said that her full name is Beth Havisham.
However, another microwave show uses even older microwaves, such as an even more primitive Goldstar microwave also from 1988 with a busted light (so old that it didn't even have a turntable but a glass baking dish), a Kenmore microwave from 1984 (also with a glass baking dish), and a GE microwave from 1978. The creator of that show said that he prefers older microwaves for their rugged durability. Beth's condition backs up his claim.
Ad blocker interference detected!
Wikia is a free-to-use site that makes money from advertising. We have a modified experience for viewers using ad blockers

Wikia is not accessible if you've made further modifications. Remove the custom ad blocker rule(s) and the page will load as expected.