Erin
was the twenty-first microwave used on the show. She was of 100% Irish background, which is why she was chosen for the St. Patrick's Day-themed finale of season 7. She didn't dress up in green for the holiday, though, so Jory got to pinch her prior to microwaving, before he put graffiti on her with the green spray paint. She was
Summer's
,
Rapunzel's
, and
Unknown's
identical quadruplet.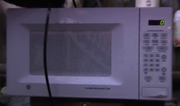 Like Whoopi and Jasmine before her, Erin perished from microwaving spray paint. She survived four explosions with zip tie (of which two were edited out for time). One of those was purple-colored and Jon used it for Erin's funeral montage and as screen cap for the episode. But after four explosions the guys decided to cut her zip tie and the experiment was restarted again. Just after a couple of seconds there was another explosion.
She did survive this fifth explosion (her clock was still on when the explosion occured), but her door blew open and caught fire on the outside. Once she had been unplugged the guys threw water on her, to put out the huge flames. Also: Riley broke off her door with a board (possibly because it was stuck due to the microwave melted a little bit in the heat).
In the next season Erin was followed by Sarah.
Ad blocker interference detected!
Wikia is a free-to-use site that makes money from advertising. We have a modified experience for viewers using ad blockers

Wikia is not accessible if you've made further modifications. Remove the custom ad blocker rule(s) and the page will load as expected.