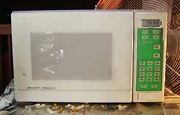 Esmeralda
was the twenty-eighth microwave ever used on the show. She was one of the older microwaves used. She was almost certainly named for Esmeralda, the gypsy, in Disney's The Hunchback of Notre Dame.
During the Flip camera episode, Jon and Jory were introducing the experiment when they heard a "click" sound. Jory looks over and sees that the microwave had just suddenly died. Maybe since Esmeralda was one of the oldest microwaves, she could have had a heart attack before the experiment. The heart attack might have also been caused by her seeing the Flip Camera and being horrified of what was going in her.
She was followed by Penelope.
Esmeralda's name was changed from "Esmerelda" (9x006 - Popcorn (Unbagged)) to "Esmeralda" (9x007 - Harry Potter and Candles). This was confirmed a misspell in a ustream.
Esmeralda is so far the only microwave to lose her display panel cover. In 9x010 - Smoke detector the display began to peel off. For the remainder of her experiments, the guys used the cover as a guide for the buttons on her panel.
All of Esmeralda's experiments, in chronological order, have a pattern: Bad, Bad, Good, Bad, Bad, Good.
Ad blocker interference detected!
Wikia is a free-to-use site that makes money from advertising. We have a modified experience for viewers using ad blockers

Wikia is not accessible if you've made further modifications. Remove the custom ad blocker rule(s) and the page will load as expected.