Gabrielle
was the thirty-third microwave used on the show, as well as being the third GoldStar microwave in the show of which the second in season 10. Just like
Melissa
, Gabrielle was a GoldStar Intellowave Even Heat System. However, she was not the same model as Melissa. With her awry door and damaged side panel (down right corner) Gabrielle is the third microwave with any defects when the guys started to use her (after
Sandra
and
Sarah
). She was also the longest-lasting microwave of Season 10 with 10 experiments.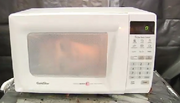 Gabrielle's damage
Edit
Gabrielle was broken in Riley's "Traning for the microwave show" montage where just at the begining she had no defects until he pushes her of a crate. The next time she appears in that vid she has an awry door and the damaged side panel. This is backed up because she lands hard on the corner of the damaged side panel. There are some photos that show it clearly.
Gabrielle died on experiment #287 while microwaving an airsoft gun. After 53 seconds the gun caught fire and painfully burned out Gabby in just a couple of seconds. Rapunzel was resurrected to do one more experiment in Gabrielle's place.
With 10 experiments on her name Gabrielle became the first dead microwave since Jackie to have an experiment amount with two digits.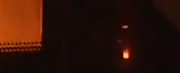 In her first appearance (#278 - Carrot), her name was spelled "Gabriele". Also: Gabrielle's lower third, which was just Goldstar in this episode, was changed to GoldStar Microwave.
In the bag of chips revisit, Jory decided to simply call her "Gabby" for short.
Gabrielle is the second microwave to be proceded and succeded by the same microwave, after Justine.
Gabrielle and Shelley could be called the "Good Idea Sisters", as both of them hold a record of most good ideas, with Gabby being the most good ideas in a row and Shelley being the microwave wich lived the longest without a single bad idea.
Ironically, Gabrielle's number of experiments is the number of the season (10).
A few seconds before Gabrielle died several YouTube-users noticed her circuit (located between her start- and stop/clear button) was sparking. This probably was her safety fuse melting through, causing Gabrielle to die.
Ad blocker interference detected!
Wikia is a free-to-use site that makes money from advertising. We have a modified experience for viewers using ad blockers

Wikia is not accessible if you've made further modifications. Remove the custom ad blocker rule(s) and the page will load as expected.