Gina
was the thirty-fourth microwave used on the show. She was the second GE Turntable microwave the guys used in
season 10
. She was the forth microwave to be named and the second to be killed by
Riley McIlwain
.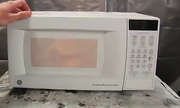 Gina did not have a long career. Her second experiment became fatal for her. Riley McIlwain hosted this episode. He had experience with killing microwaves, as he already killed Zelda in experiment #195.
In Gina's last experiment a baby diaper was placed on the inside of Gina and she was turned on. The diaper soon caught fire and Gina eventually died with 2:32 left on her clock. With her dying, Gina became the second microwave to be killed by Riley... and ironically this microwave once again died with Jon in picture!
Gina was followed by Shelley. She was part of the microwave pyramid in the finale.
Ad blocker interference detected!
Wikia is a free-to-use site that makes money from advertising. We have a modified experience for viewers using ad blockers

Wikia is not accessible if you've made further modifications. Remove the custom ad blocker rule(s) and the page will load as expected.