Justine
is the twenty-fifth microwave ever used in the microwave show. She is used in the 234th experiment which is set on the Vidcon gathering. She initially was going to be called "Ellie", and then, "Michelle." Riley thought up the name "Justine.", he named her after the YouTube-user iJustine.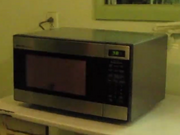 Name: Justine
Brand: Sharp Carousel
First Experiment. #234 - Vidcon
Last Experiment. #234 - Vidcon
Total Experiments. 1
Ultimate fate. Retired
Retirement
Edit
After the VidCon performance, she was left by the District Lines booth at the convention. She was not broken, but the only reason they left her, was because they couldn't fly her back home to Boston with them. With only one experiment on her name, Justine became the microwave with the least experiments ever of any retired microwave girl and was the first microwave not to be retired early due to her dirty inside. However: the same deed was later done by Felicia, Phyllis, and Unknown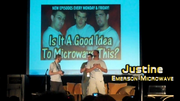 Sharp or Emerson?
Edit
Although it said in the video that Justine was an Emerson, an anonymous editor raised the question on here of her being a Sharp Carousel. Upon further investigation, it was found that Justine was indeed a Sharp Carousel, not an Emerson. Below is pictorial proof:
http://i148.photobucket.com/albums/s29/ABMfisher/JustineSharp.jpg
It is conceivable that what happened is that Jon forgot to change from "Emerson" to "Sharp" while editing, considering that Justine's experiment was put in the middle of Margaret II's run. Justine appears to have been a similar model to Tracy. The big difference is that Tracy's panel was chrome, whereas Justine's panel was black.
Ad blocker interference detected!
Wikia is a free-to-use site that makes money from advertising. We have a modified experience for viewers using ad blockers

Wikia is not accessible if you've made further modifications. Remove the custom ad blocker rule(s) and the page will load as expected.