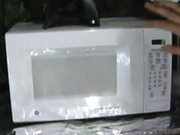 Summer
was the fourteenth microwave used on the microwave show. This microwave was probably one of the most memorable ones. She lived for only 2 seconds, after that she was ripped apart by an exploding airbag in her. This accident was not only the end of Summer, but also from the
Jory Caron Microwave Laboratory 2.7
(because of the damage it was relegated to 2.6). Jory came very close to death as well: less than a half second. She was
Erin's, 
Rapunzel's
, and
Unknown's
identical quadruplet.
Name. Summer
Brand. GE Turntable
First experiment. #167 - Airbag
Last experiment. #167 - Airbag
Total experiments. 1
Ultimate fate. Dead
Succeeded by: Penny
This microwave was completely destroyed in one single experiment. In her first experiment, which was her last as well, Summer had an airbag in her, which deployed hardly two seconds after Jory started the experiment. The impact of the airbag killed Summer in a very brutal way. She died immediately after the airbag deployed and her parts were scattered across the lab, with the door about 20-30 feet from the table. Using dynamite to blow up/retire Diane is the only explosion on the show that was more dangerous. Unlike the dynamite experiment, however, the airbag explosion was less intentional (they expected it to go off, but they were still surprised when it did).
Popularity of the Door.
Edit
The door of Summer was hung up inside the Lab for the rest of the season to remind them of how dangerous such experiments can be. However, the door was eventually auctioned off on eBay with a small starting bid (less than US$100). YouTube User Cloud8745 mentioned during one of his Live streams on JTV that the bid when he first saw was at 100 bucks but the following day it eventually swelled to more than US$1,500.
"Let's get out of here, chief!"
"Oh my god!"
"It broke the window!"
"Get the f**k out of there!"
"Where is the door!?"
"The tinfoil shield, it actually worked!"
"I'm glad I ran fast enough!"
"Holy sh*t!"
Ad blocker interference detected!
Wikia is a free-to-use site that makes money from advertising. We have a modified experience for viewers using ad blockers

Wikia is not accessible if you've made further modifications. Remove the custom ad blocker rule(s) and the page will load as expected.