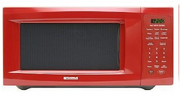 Zelda was the eighteenth microwave ever used on the microwave show. This microwave is the first Kenmore microwave and also the first microwave which was neither white or black colored: it's red. She was one of the few microwave which was not named by
Jory Caron
. She was named by Geoffrey Jones, the guy who donated her. She is also a close cousin of
Marissa
, being the same model, but a different color (white). In the bloopers, Jory names the microwave Rose before Jon corrects him saying it's Zelda and Jory says "aw, f*ck me."
In episode 195 the microwave star was killed in action while microwaving a small TV. This episode was the first episode Riley McIlwain hosted. There was smoke and eventually fire in the TV. When the flames came out of the TV, they killed Zelda in just a couple of seconds. The guys were too late to save her.
Ad blocker interference detected!
Wikia is a free-to-use site that makes money from advertising. We have a modified experience for viewers using ad blockers

Wikia is not accessible if you've made further modifications. Remove the custom ad blocker rule(s) and the page will load as expected.